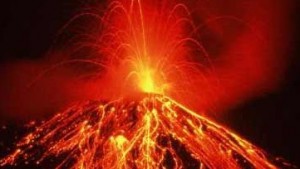 Before coming to Bocas del Toro I spent a year working in San Jose, Costa Rica and was able to travel a lot on the weekends and see the country.  My radius was not huge because I only had about 60 total hours for the weekend and the roads are terrible, but luckily the country is tiny.  I had a flight a couple of weeks ago to Las Vegas for about $400 and went up by bus from Bocas a few days early to visit Arenal Volcano and stay at the Tabacon Resort and Spa, which I had done about 4 years ago and really enjoyed with my family.
The volcano is usually covered in clouds, but last time I was there we were able to get a great view of the whole cone for the two days we spent and actually saw glowing lava flows at night while we soaked in the thermal pools at Tabacon.  The thermal springs area is very impressive, but man the water is really hot and it seems like every time I leave there I have some kind of rash, that could be from any number of activities though and I would still go back.
To stay one night we paid $200 for a really nice room, a delicious breakfast, and access to the hot springs for the two days and night that we spent.  Tabacon has to be one of the few places in Central America where you have a king-sized bed with big down comforters, and the bathroom is like a mini pleasure palace.  We took our own wine to save a little money and ate nearby at an outdoor grill that I would recommend but which did not appear to have a name, it was the last restaurant on the right before reaching Tabacon.
The morning after some of the best sleep of my life we went on a horseback riding tour through a large cow farm to the La Fortuna Waterfall.  The tour was with Alberto's Horses just before you get into La Fortuna; tel. 2479-9043 email albertoshorses@gmail.com.  We spent about 4 hours on the trip for $35 each.  The destination is a beautiful waterfall with swimming pools, the hike down there is not so bad, but coming back up is literally the opposite.
Visiting Arenal is one of the most worthwhile attempts in Costa Rica even though odds aren't great that you will actually see the cone and/or eruptions.