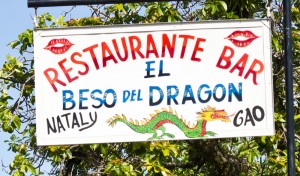 If you want to experience the true cuisine of Bocas del Toro, Beso del Drago is the place to go. Typically a dish will consist of mostly starches, but not the bad kind like you find in the States and Europe. Bocas cuisine consists of a lot of rice, noodles and plantains. Whereas in the US you find a lot of over processed meals from fast food restaurants and mega supermarkets.
A dish of pork, rice, noodles and lentils will cost you around $3.50 USD. While the pork is a small portion it still equals roughly 25grams of protein. And if you are a fat back enthusiast like myself, this meal will satisfy your needs with a piece of cooked fat with pork attached. Add hot sauce.
Beso del Drago is located right in Bocas town at the municipal boat dock that Bocas Villas uses for client transportation. Good beer, good food, just don't get anything on the gringo menu such as fish tacos. You will get your food after your dinner companions have already finished.