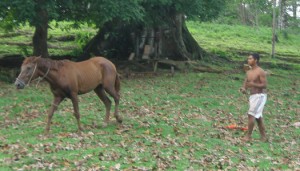 One of my favorite activities when I travel is to go horseback riding.  I like the horses and everything, but also its one of the best ways to get back into the countryside and get a unique perspective on the landscape and in most cases you meet people on farms or Indian farmers in the jungle.  On a horse you can cover more territory and also pick your head up and really take a relaxed look around at where you are, where you've taken the time to visit.
When I arrived here there were no horseback riding tours readily available, although there are a significant amount of cow farms and horses being used throughout the nearby islands (now there are a couple of horse tours).  We are in the process now of training several new horses for tours in Dolphin Bay for our guests beginning in September.  The tour will be through pasture and private nature reserves as well as farms and will probably include some basic work with the calves, which will be a cool experience for whoever wants to participate: moving them from pastures or helping to wrangle them for vaccinations.  Dolphin Bay is a beautiful setting and I was able to get a couple of great looking, light-weight Criollo horses for a little over $100 a piece and a local partner there to train and keep the horses on pasture, and guide the tours.
The main catch here with the purchase is that these are stallions which have never even had ropes around them, they are almost completely wild.  There were four of us yesterday with one on horseback that chased a new stallion through pasture and jungle until we got him through a gate into a smaller pasture that unfortunately also connects to the local village.  He was going completely ape-shit and broke through the school fence (school was out) kicking everything and truly throwing his weight around, I mean it's a big animal.  My lasso skills suck, but the older dad there got a good rope around him.  Once they get heated up like that they are very dangerous and definitely unsafe to try and hop on, which is the first goal in the breaking process.
The plains Indians used to jump on horses and bite down on their ears to make the horse run full speed, they are unable to buck well running and they just run until exhausted and are broken that way.  Most of the guys yesterday did not have a good set of teeth, so that was not a good option.  What they do here is drag them out into the water to a sand bar to cool them off and relax them, and it's also a safer place to ride.  The horse can't buck and kick as effectively in chest deep water.  This horse threw himself head over hoof off a 40 foot cliff into shallow water, it was a disaster, but he did get into the water at least.  At one point we were there wrestling with this horse and a pod of dolphins past 20 yards behind us, it made me take a breath and look around.  He was in mud and it took a long time to "coax" him out, but I was able to get on his back then and we got reins on him.  He is tied up now and the next step is to get a saddle on him and stay on as long as possible…I'm scared, I have to say.  We learned yesterday he is a powerful kicker and throws himself onto his side and back when he's pissed.  I do not receive kicks well, nor do I land well on my back under things.
My computer and business skills have thus far not transferred well to horse training, but I'm excited about being able to offer the tours and the process is a lot of fun for me personally.  I could never afford to have and house a horse in the US and living here gives me that opportunity and I'm always happy about taking advantage of the positive differences in location.