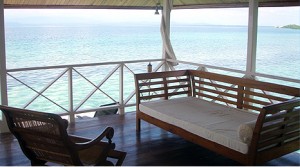 These beautiful vacation rental villas are built over the water stretching out towards one of the largest living coral reefs in Bocas del Toro.  The open design takes full advantage of the cool Caribbean sea breezes and magnificent views.
From one of the two expansive front terraces ease in to the refreshing Caribbean for some snorkeling or a relaxing swim. Also, from your private dock travel by boat to one of the nearby white sand Panama beaches or into town for some shopping and local cuisine.
Bocas Villas is neighbored by the premiere master-planned community on the island and its most exclusive resort.  Our villas are in the same great location, but at a much lower cost than buying in a large gated community.
[flashvideo file=wp-content/uploads/2010/05/Bocas-Villas-Bocas-del-Toro-Panama.mp4 /]