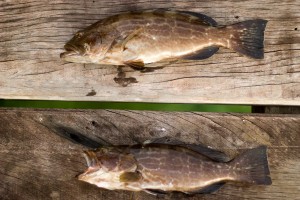 There are several opportunities and options for fishing in Bocas del Toro. The most common are from a boat either trolling or docking on a bouy. Bocas Villas has several fishing poles and lures to catch a wide range of fish.
Fishing in the bay, about 100 meters from Bocas Villas has plenty of decent size fish. On a good run, you can catch a couple of 5lb grouper in less than 30 minutes. You can also troll on the way to one of your destinations such as Dolphin Bay or Bocas del Drago.
Fishing in the ocean will end up being a several hour trip, but the yield can be high. There are schools of tuna scattered throughout the area, and once you find one,  you're guaranteed several large fish. Ask us about the options for fishing.