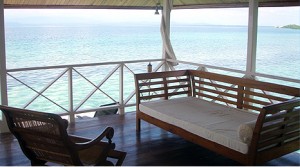 These beautiful vacation rental villas are built over the water stretching out towards one of the largest living coral reefs in Bocas del Toro.  The open design takes full advantage of the cool Caribbean sea breezes and magnificent views.
From one of the two expansive front terraces ease in to the refreshing Caribbean for some snorkeling or a relaxing swim. Also, from your private dock travel by boat to one of the nearby white sand Panama beaches or into town for some shopping and local cuisine.
Bocas Villas is neighbored by the premiere master-planned community on the island and its most exclusive resort.  Our villas are in the same great location, but at a much lower cost than buying in a large gated community.
The front terrace of each unit looks along a beautiful coral reef. See tropical Panama marine life from your couch or get in the water for a closer look.
Bocas Villas uses the most eco-friendly utilities to help make sure our land and water remain as clean as possible. Electricity, water and waste.

With no threat of hurricanes, homes in Bocas del Toro are traditionally built over the water, the focus of life on these Caribbean islands.

In a quiet neighborhood close to Bocas town, perfectly situated to take advantage of the increase in land values without threat of over-development.