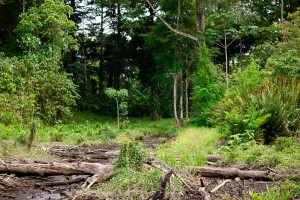 Bocas Villas is very close to access points of the jungle. It takes less than 5 minutes via boat. The Jungle Walk is a cool little trip to take in the morning before embarking on other activities such as fishing or snorkeling. It is just another one the many adventurous activities to do in beautiful Bocas.
Let me warn you about the mud. The mangrove and several hundred yards into the jungle is brackish and wet land. It is not completely untraversable, but you should plan on getting a little dirty.
There are a lot of different types of plants, trees and flowers that grow in this environment. It makes for an invigorating experience. There are also animals (non-threating) such as sloth and monkeys.
The deeper you go, the more luscious the jungle gets. There are beaten paths and the entire trip can take up 3 hours if you are feeling extra adventurous.