Utilities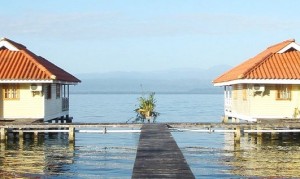 Bocas Villas provide the most eco-friendly utility systems available. These are self-sufficient units that use technology and renewable resources to provide a comfortable lifestyle.  The utility systems are housed on land in an independent structure.
Solar - Each villa has a specially designed solar electric system powerful enough to provide the luxuries of modern living. This close to the equator and with such temperate weather, using the sun is a great way to consistently generate electricity for a single home.
Waste - There is a communal bio-digester septic system that uses bacteria to decontaminate waste water at a safe underground level.  This is another self-sufficient and chemical free system that turns harmful septic waste into environmentally safe material.
Water – Although city water is available in town, the traditional method of water-catchment is still the favored way to get clean water.  Bocas Villas use a communal water-catchment system to provide hot and cold water to each home.  Even during the dry season, our water-catchment system is efficient and large enough to always provide more then enough water for each villa.