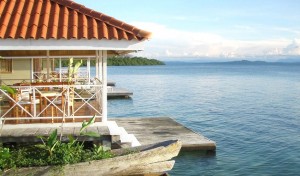 The villas are designed to take advantage of the great weather and views.  The houses' large windows, doors and open spaces let in the constant breeze from the Caribbean Sea and make the view available to most of the house.  In the traditional method of construction for this area, our villas have been constructed entirely over water.
Bocas del Toro is famous for its sunsets, which color the sky a different way each afternoon.  The west-facing units have large 24 square meter terraces comprising the front third of the house and making up the primary living space.  A second front terrace of 18 square meters is closer to water level, great for sunning in the day and stargazing at night.  The amazing view looks out over Almirante Bay all the way to the Talamanca mountain range in the distance.  Opening up to the terrace are the spacious kitchen and living room, which each measure 12 square meters.  The 16 square meter bedroom and the bathroom are towards the back of the house.
Each home has a private boat dock built behind the house with a walkway wrapping around to the terrace.  Built between the house and main dock the private boat docks provide added protection from waves.  A shower and storage closet on the back make it a great area to clean off and come in from the water.
Floorplans