Red Frog Beach is located on Bastimentos which is about 20 minutes from Bocas Villas by boat. The boat ride is pleasant and also gives you the opportunity to head into town to get supplies: Snacks, beer, ice and perhaps a frisbee. Don't forget the cooler which is an affordable $5 to bring on the beach. Trust me, you will want to bring a cooler since the beers from the restaurant are rather pricey. You'll be making money whilst drinking an ice cold brew.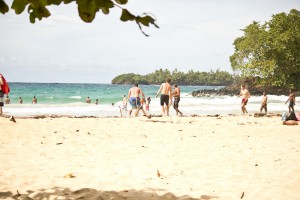 This is a beautiful beach with plenty of scenery, a beach volley ball court, sunny and shaded areas, and also a restaurant and bar. It is a younger crowd, but it doesn't get crazy like some of the over-crowded beaches in the US. It is quire relaxing and caters to a mixture of Europeans and Americans.
There are plenty of spaces to dock your boat. When you arrive, you can either walk about a mile or take the free truck to the beach. I recommend the truck taxi especially if you have a cooler full of beverages.
Everyone is there to have fun and take in the beautiful landscape. Pick a spot on the beach or under a tree to relax. If you do not feel like lying or sitting, start a game of beach volley ball or join in on a game. The only reason you are there is to enjoy the amazing view, beach and water.