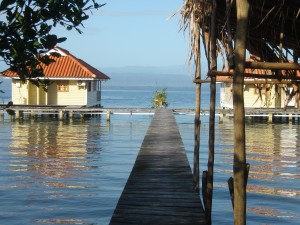 There is an established and growing expatriate community spread throughout the islands of Bocas del Toro.  A couple of years ago I went to a Fourth of July party in the Darklands (a bay behind San Cristobal) and assumed that I would know most everyone there, I was shocked that I really only knew a small percentage of the Americans at the party.  There was a whole community of neighbors from that area and the more eastern islands of Bocas del Toro that I had never run into.  What I realized is that Bocas can offer a wide range of retirement situations.  The islands and province are big enough to allow private retirees to remain self-sufficient and to themselves, there are areas where Americans and foreign retirees have created almost independent sorts of neighborhoods, and there is the area in Bocas town and nearby for those that want to be more included directly in the town life.  All of these lifestyle options are available here. 
An article posted in Yahoo Finance has mentioned Bocas del Toro as one of the top 8 spots for retirement abroad.  The weather and the Caribbean of course make Bocas del Toro a great place to retire.  The article also looked at a health care index that puts Panama on par with Portugal, the options being the local hospital in Bocas as well as the bigger medical centers in David and Panama City.  What I am a little confused about is that Panama tied with Costa Rica for monthly affordability.  Costa Rica has a 13% sales tax compared to Panama's 7%, and Costa Rica's import tax is a whopping 23% for merchandise.  The tax on cars in Costa Rica is the blue book value: any given car costs twice as much in Costa Rica as Panama.  The rating is from some affordability index, so it just depends what kinds of goods were compared, but it is surprising to me having lived in Costa Rica.
 The other positives mentioned were Panama's "pensionados" program that offers significant discounts to retirees on things like transportation, and the prevalence of English as a spoken language in Bocas.