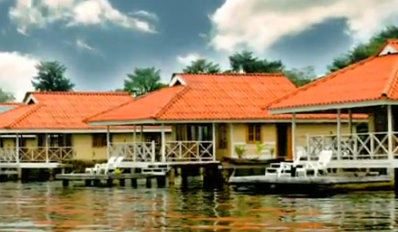 A few months ago I was contacted by Stephanie Johnnidis, who is a travel-blog writer, about a reservation for two villas for a couple of nights in April for herself and cousin Jon Johnnidis. We talked a little about journalist discounts, but initially it was not something I was very interested in. I get these scam requests every once in awhile from backpackers on surf trips, who I don't hear from again after I ask for their superiors' email addresses. As it turns out, Stephanie is a professional and will be including Bocas Villas in a blog reviewing different hotels she visited in Bocas and Panama. And Jon, who owns Axios Productions, a New York City based video production company, has produced content for various adventure travel destinations in the past and offered to create something for Bocas Villas for our online marketing campaign, which is something Blake Urmos and I had planned to do.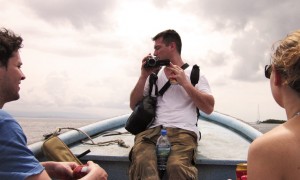 Jon and his stand-in production crew, which consisted of a buddy with a clipboard and some sort of mixed drink, were only at Bocas Villas for a few days. The first was rainy and the forecast didn't look good. Brown says the Ngobe Indians throw a cat in the water when they need it to rain, but didn't have any ideas about calling out the sun. We did get some great weather, though, and had a couple of good days to send Jon on some tours that we do. Their first day they went (in the rain) to Redfrog Beach on Bastimentos Island to look for some surf and got the shot you see in the video of a poison dart frog.
The next day, when the sun came out, they did another full-day tour, going through Dolphin Bay to Coral Key and the Zapatillas Islands in the Bastimentos Marine Park. That's really a great day. It's about 45 minutes to get there, but you go through a lot of the mangrove islets, see really unique sand beach islands, and get to do some great snorkeling. We also did a quick trip to Starfish Beach and Bocas del Drago. That's one of my favorites because its so easy and close and has everything I like in a beach: sand, shade and a bar. Jon ended up getting some excellent raw footage and then he needed to interview me for the information.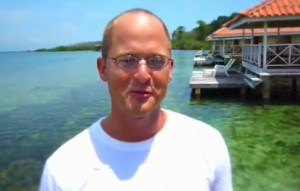 I was in my own house, talking about something I talk about every day, was in a good mood, but, man, talking on cue for the camera really freaked me out. The interview was well edited, but I can hear in my voice in a couple parts that I start to lose my shit a little bit. Jon is a good sport, though, and produced a great video with some beautiful weather and my spotty performance.
The video is a nice feature for guests to view and learn what they are getting into. But we also want to use it as a marketing tool, to get people to see our website and make a reservsation. I don't know the real details of how this happens, but that is Blake's professional focus  and his blog has some helpful information on how to use features like this. We are also going to track as precisely as possible the impact this video has on traffic and conversions, and both Blake and Jon will be able to provide details about that. Assuming this goes well their services are available.